Topic: Do you want to bring more data-driven decisions into your daily job? Maybe even shift your career path towards data science? Or simply pick up skills that are related to data science (like coding in SQL or Python)? This live webinar will help you a lot!
Brief: As a marketing professional with a strong interest in data science, you might have lots of questions.  I'll answer all of them in this live webinar!
Demystifying Data Science. What is it? What isn't it? (Cutting the BS that's out there on the internet.)
Do you have the right skills to be more data-driven?
What do you need to learn?
The toolset of a data-driven marketer.
Could you learn coding in SQL or Python? (How difficult is it?)
Where to learn? How do you practice?
How to pitch the data-driven way to your organization?
I've been working with data science and analytics for 6+ years. I've run projects and consulted for many e-commerce companies, online startups, marketing agencies and freelancer marketing professionals on how to set up their or (their clients') KPIs, how to run A/B tests, how to do predictive analytics and machine learning projects – and just in general how to be data-driven. (I'm proud to say that many of them are far ahead of their competition in every sense.) This presentation is based on my experience that I collected throughout these years!
Join this quick 30-minute webinar – with a 30-minute Q&A session at the end – and get all the answers!
Date/Time: 13 September 2018, Thursday, 6pm-7pm (CEST timezone)
Location: Online (Register for the link!)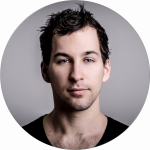 Presenter: Tomi Mester, author of Data36
The webinar is free, but you need to register to get the link. Registrants will get a recording of the webinar, too.
This is not a Newsletter subscription. Your e-mail address is used only to send you information about the webinar. Obviously, I won't give out your email address to anyone.